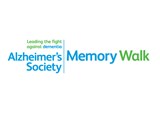 I don't normally beg … but it's a good cause!
Around 225,000 people develop dementia every year – that's the equivalent to one person every three minutes. This September I will be taking part in a Memory Walk to raise money for a world without dementia. Arm in arm, step by step and pound by pound, we will get there. Once you donate, Just Giving will send your money directly to the Alzheimer's Society. So it's the most efficient way to raise money – saving time and cutting costs for the charity. Please dig deep and help us walk for a world without dementia.
I decided to take part in this charity walk as Dementia is something that really, quite literally hits home for me and many of my loved ones. A lot of my childhood was spent in the arms of my Grandma Mac watching her slowly forget who we all were, my great aunt is currently living with her husband whom she very rarely knows who he is and my genetics sadly mean that there is a great chance that my mum and I will follow the same path as the women in the family.
A lot of my close friends also have Dementia running in their family too. It really is far too common! so please click the link below if you have anything to spare!
https://www.justgiving.com/MW15vickylingard/
Much love to you all! xx